In April, Pi's head office contact for the Middle East, Julius Guth, visited Dubai, alongside Hazco's Muhammed Aqeel.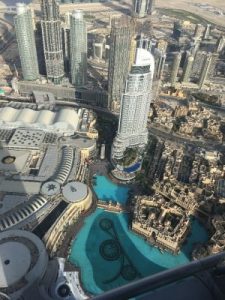 Pi and Hazco supply products across the Middle East
Julius and Muhammed met with the Dubai Electricity and Water Authority (DEWA) who provide drinking water for all of Dubai.
Their first system trial monitored the chlorine dioxide levels in Dubai's drinking water, which included using:
Based on the success of the trial, DEWA recently ordered ten DioSense chlorine dioxide systems.
At the meeting, DEWA discussed the technical specifications required for their future systems. In order to offer the best possible service to DEWA, Hazco are in the process of setting up a local office in Dubai to maximise efficiency and provide local support.
Nevertheless, the week wasn't all work! Julius and Muhammed had the opportunity to visit the world's tallest building, the Burj Khalifa. Up on the 125th floor, the pair had a stunning view over the city of Dubai, an experience they are unlikely to forget.
When commenting about his trip, Julius said:
"It was a pleasure to spend the week with Muhammed. The meetings with DEWA will pave the way for our growing presence in the Middle East. We have been long-standing partners with Hazco, so it's always good to see them and provide assistance where we can."
To see how Pi can support your organization with our water analyzer treatment solutions, check out our full range of process instrumentation now.
Or if you would like to learn more about our distributor for Dubai, head over to the Hazco website today.
Contact Process Instruments today!
Pi is proud to be recognized as a global provider of water analyzer treatment solutions. If you would like to learn more about the leading services that we provide, please do not hesitate to contact a dedicated member of the Pi team today.